Get the most out of your CD Collection with the Audiolab 6000CDT dedicated CD transport. This CD transport extracts the minute musical details from your CD collection for musically satisfying and emotionally involving sound.
6000CDT is the latest CD playback solution that is the ideal companion to the new Audiolab 6000A integrated amplifier. A no-nonsense, CD media solution that typifies Audiolab's offering to the audiophile – simple and uncomplicated quality. Clean and authoritative playback.
Quality engineering, without compromise
The 6000CDT uses the same ultra-smooth slot-loading mechanism as the multi-award-winning, and much more expensive, Audiolab 8300CD.
Faster and smoother
A silky-smooth motor is used to assist disc insertion and removal. Not just a luxury, it also offers increased disc stability and reduced susceptibility to resonance, thus further contributing to the 6000CDT's outstanding playback performance.
Performance by design
By mounting the transport in its own, electromagnetically shielded enclosure, and providing it with a dedicated power supply, the digital signal extraction from any CD is as accurate and precise as it is possible to achieve.
Robust and reliable
The 6000CDT transport uses read-ahead digital buffering to reduce reading failures and guarantee a seamless playback Accurate and precise. The digital clock is controlled by a temperature-compensated crystal oscillator that makes sure the digital output from both the coaxial and optical sockets has minimum jitter
Pure and precise
We don't want to colour your CD playback in any way. Therefore, the 6000CDT the coax output is fed from a differential line driver to ensure a flawless digital signal reaches your chosen DAC.
The Audiolab 6000CDT CD Transport will make you want to revisit your entire CD collection. Purchase this CD transport to hear what you have been missing from your CD collection.
Chose the output that's best for you
Featuring both optical and coaxial digital outputs, the 6000CDT works with almost all DACs and digital amps.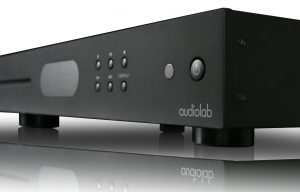 Top-quality, slot-load mechanism
Using the slot-load mechanism from the highly acclaimed 8300CD, makes this player faster to load and cleaner in style. Doing without the traditional loading tray also reduces the chance of resonance, potentially improving sound quality still further. Using a read-ahead digital buffer, it's also more tolerant of imperfect discs that might be scratched or dirty, letting you play your most loved discs that other players won't.
Hear the true potential of your CDs, with the stunning Audiolab 6000CDT. the Audiolab 6000CDT is a CD transport bargain – a true quality item at this affordable price.
Digital Output Voltage Level 600±50mVpp
Frequency response ≤0.01dB @ 20-20kHz
Output Impedance 75±1 ohm
Max Sampling Rate 44.1 KHz
Max. Power Consumption 15W
Standby Power Consumption <0.5W
Power Requirements 230V ~ 50 – 60Hz
Dimensions (mm ) (W x H x D) 445 x 300 x 65.5 – including feet, terminals and controls
Weight 5.4kg (Net)