After spending a small fortune on your home theatre system or stereo hi fi stereo system most buyers do not consider the next most important decision that they have to make. – Which is the Best speaker cable for home theater they can buy in India.
Yes, the speaker cables is important as it determines how effectively and precisely the audio signal from the amplifier or AV Receiver is transmitted to the speaker.
The speaker cable indirectly determines the final quality of sound from your speakers.
THE THREE MOST IMPORTANT PROPERTY OF A GOOD SPEAKER CABLE ARE:
Conductance: Quality and thickness of the copper wire. Generally oxygen-free copper is a must. Also the thicker the copper gauge the easier it will be for the electrons to flow.
Insulation: The quality of the insulation and its flexibility.
Noise Rejection: The insulation cable or shield of the speaker cable should be able to reject spurious frequency noise from its surroundings.
TYPES OF SPEAKER CABLE FOR HOME THEATRE IN INDIA
Ribbon or flat speaker cable: These are flat cables for hard to fit areas like under carpets, etc.
Regular speaker cable: These are the regular cylinder shaped cables which is very popular.
Amoured speaker cable: These cables have an additional layer of protection and are suitable if you want to run the speaker wire inside your walls. These speaker cables are more suitable for commercial installation like studios, cinema halls and entertainment lounges. Normally these speaker cables are installed during construction.
HOW TO SELECT THE RIGHT SPEAKER CABLE FOR YOUR HOME THEATRE?
For high powered systems and or longer cable lengths exceeding 10 metres we recommend 12 AWG or 14 AWG speaker cables.
For lower powered systems and or shorter cable lengths we recommend the 16 AWG, 18 AWG or 20 AWG speaker cable.
Please note that the smaller the AWG number, the thicker is the copper conductor, and the better its capability to pass the amplified audio signal.
If you are looking for a flat or ribbon type cable, we would recommend the Silver Streak-1 Silver Plated Copper Flat Speaker Cable.
SPEAKER CABLE TERMINATIONS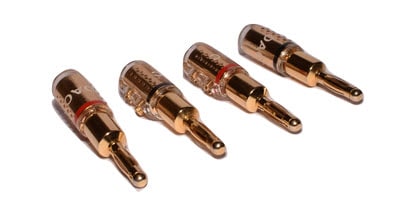 We do not recommend using bare speaker wires. Instead we insist that all speaker cables be terminated using good quality Banana Plugs. Un-terminated speaker cables can corrode over time leading to a poor quality sound and also sometimes a loose strand from a bare cable can lead to a short circuit thus destroying your system.
Always buy solid copper banana plugs with gold plating. There is no point buying good quality speaker cables and then using cheap banana plugs (not made from pure copper) to terminate them.
HOW MUCH TO BUDGET
Ideally you should spend at least 10% of your total home theatre budget on all cables. This includes speaker cables, interconnects, HDMI and power cables. We suggest that you spend at least 2-4% of your total budget on just speaker cables.