The Wharfedale Linton Heritage speakers are probably one of the most prized in our collection. As a celebration of Wharfedale's existence for 85 years, they designed a new version of their much-loved Linton and Denton speakers, which have been around since the 60s. The Lintons are a fantastic package, with a beautiful sound, stunning looks, and an amazing price. Let's get into what makes these speakers extra special in a bit more detail. 
Looks & Construction
With the Wharfedale Lintons, old is most definitely gold. They are classic beauties with a perfectly mirrored real wood veneer, so both speakers look like they've been constructed from the same tree. Beneath the skin, is a rigid sandwich of MDF and chipboard that diffuses sound, leaving a very clean sound.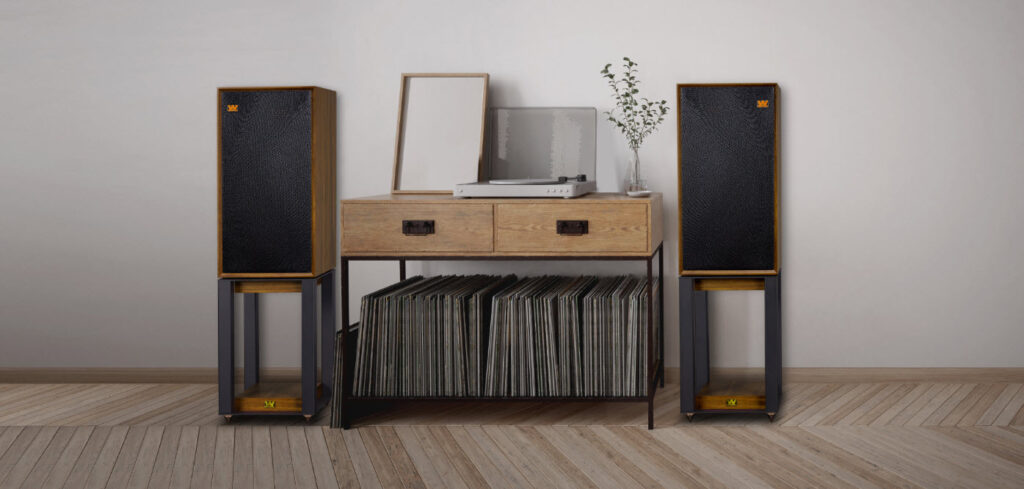 The front fabric grill is mounted on pegs and comes off easily, showing off the classic 3-way drivers. The 1-inch fabric dome tweeter is covered with a mesh to protect it. Beneath it is a 5-inch midrange driver and an 8-inch bass driver, both made of rigid and light Kevlar. 
We'll delve more into the sound in just a moment, but if you want the best sound from these speakers, you should consider keeping the grill on. 
On the back, there are two bass ports and binding posts that can take bare wire as well as banana connectors, spade connectors and pins. 
Another unique feature is that these speakers come paired with their own custom stands finished with the same kind of wood veneer that the speakers come with. They are solid, sturdy and come with adjustable cone feet for hard floors and optional rubber-based pads for wooden floors. These well-designed speaker stands also have a space to store 40 to 50 of your favourite LPs. 
Amplifier Selection
Ideally, get amplifiers designed to work with low-impedance speakers since these can go as low as 3.5, though their nominal impedance is rated at 6 ohms. 
We recommend the Audiolab 6000A integrated amplifier, which is made by the same parent company and works beautifully with the Lintons.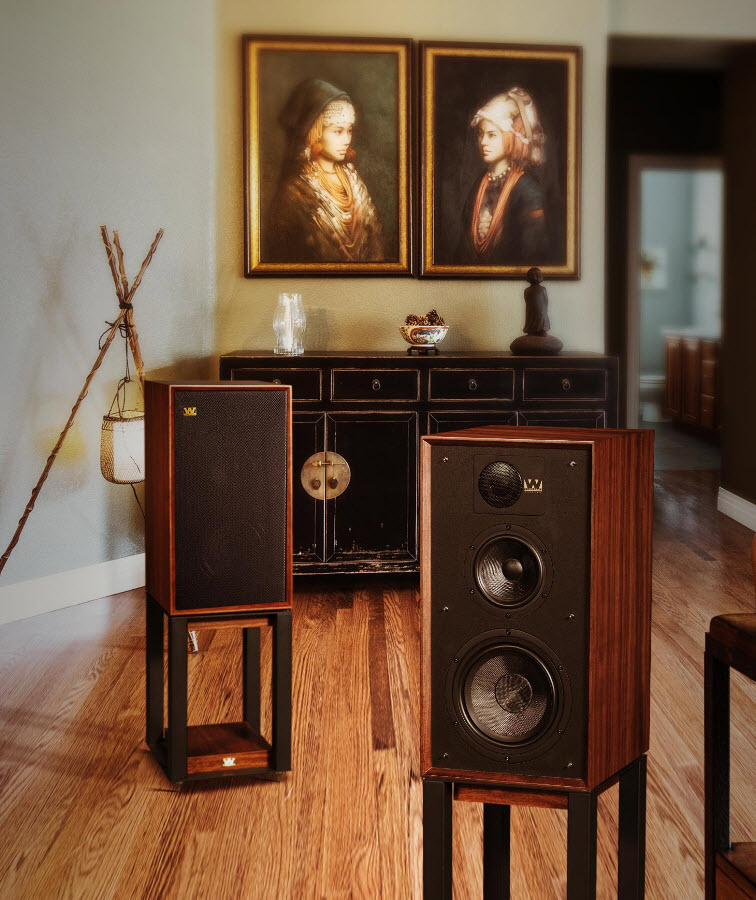 The Sound
Now, for the part, you've been waiting for! When you set up the Wharfedale Lintons, make sure the off-set tweeters are on the inside. Toe them in a bit so they seem to be aimed a few feet behind you, or directly at you. 
These speakers may have a classic look but they sound very modern indeed. As soon as you turn them on, you'll be amazed at the scale and space these speakers create really brings music to life, whether it's classical or jazz, rock or electronic. 
One of the key reasons for this is that the crossovers have thousands of hours of research sunk into them. They have been refined beautifully to give each cone the perfect range to shine through. It all comes together so seamlessly over the three drivers, that the speakers themselves seem to disappear, leaving just the performance before you. 
The Lintons are a masterclass of clarity, especially in the mid-range. The vocals are remarkably clear and lifelike with incredible detail and space. Everything from acoustic and folk guitar to heavy electric leads, along with flutes to saxophones, violins to cellos, all sound as if they are being performed right in front of you. 
There's also plenty of bass to go around. The low-end is very clear, well-articulated, fast, and ample. Most people would not need a subwoofer to go with these speakers. Just make sure you put about 50 cm or more between the back of these speakers and the wall for the bass to be at its best. 
The treble is laid back, making for easy listening for hours on end while still being clear and present. You can play around with this by toeing the speakers in more directly to you or finding a seat that gets those tweeters closer to the level of your ears. Playing around with the positions of these speakers can subtly change the sound and help you get exactly what you're looking for. 
Their 90 dB sensitivity also means they can get quite loud without much of a push, and they can handle quite a bit of volume without distorting, so don't be afraid to turn it up.
So, should you buy them? 
In a word, yes! If you check the following boxes, you should definitely get a pair of the Wharfedale Lintons. 
You have a room around 200 sq ft or larger, and enough space behind the speakers to let them breathe

You like warm, clear mids, and relaxed highs

You like deep, detailed bass

You like the wood finished aesthetic that merges seamlessly with your decor

You like tremendous value for every penny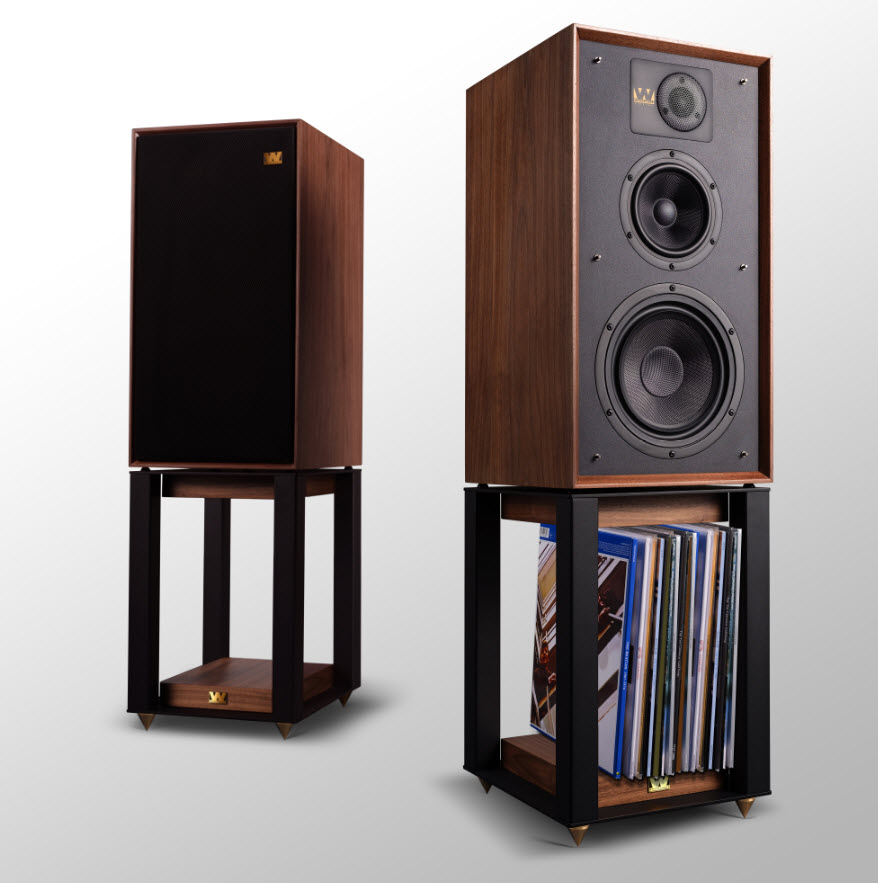 Conclusion
The Wharfedale Linton 80th Anniversary Edition is the latest in a long lineage of brilliant speakers from Wharfedale, refined over decades, modernized, and refined to a beautiful finish, both in sound and in looks. At this price, they offer truly remarkable value – a truly premium sound signature and aesthetics worth much, much more than you have to pay for them. 
Also, these speakers are a rare find that perfectly bridges the gap between bookshelf speakers and towers. Even though these technically stand mount speakers, the bigger cabinet and 3-way design makes it a lot more like a tower speaker in many respects, making it all the more versatile than most speakers. 
Personally, we feel these are among the best speakers in our collection and hit the sweet spot in sound, looks, and price while just delighting us with every song we listen to. We are sure you will be just as happy with them too. 
Specifications
General Description: 3-way vented-box/standmount
Enclosure Type: Bass reflex
Transducer Complement: 3-way
Bass Driver: 8″(200mm) black woven Kevlar® cone 
Midrange Driver: 5″(135mm) black woven Kevlar® cone
Treble Driver: 1″ (25mm) soft dome
Sensitivity (2.0V @ 1m): 90 dB
Recommended Amplifier Power: 25-200 W
Peak SPL: 110 dB
Nominal Impedance: 6Ω
Frequency Response: (+/-3 dB) 40 Hz ~ 20 kHz
Bass Extension: (-6dB) 35 Hz
Crossover Frequency: 630 Hz & 2.4 kHz
Height (on plinth): 565 mm
Width: 300 mm
Depth (with terminals): (330+30) mm
Net Weight: 18.4 kg/pc