Audiolab 9000N Wireless Audio Streaming Player
Developed to be the perfect digital streaming companion for the flagship audiolab 9000 series, the new Audiolab 9000N Wireless Audio Streaming Player is the result of over three year's development and innovation to provide a critically stable, high-resolution wireless (and wired) digital music playback.
The Audiolab 9000N answers the 9000 series and its natural progression towards a more premium hi-fi solution while answering overwhelming customer demand for a solidly built and impeccably finished streaming component.
The format of the Audiolab 9000N reflects the crisp elegance of the 9000A and matching CDT. Equipped with rotary controls and an absence of buttons (except for the power switch), the 9000N also implements the 4.3in colour screen, as found in the rest of the series – the perfect window for presentation for your digital music files… including full-colour album artwork!
The screen displays a variety of information in a more visually appealing way than most other streaming devices, many of which have traditionally relied upon the accompanying app for operational feedback and user control and interface. The 9000N's display offers full menu controls, an array of options, and user settings, including multi-language selection and general display options.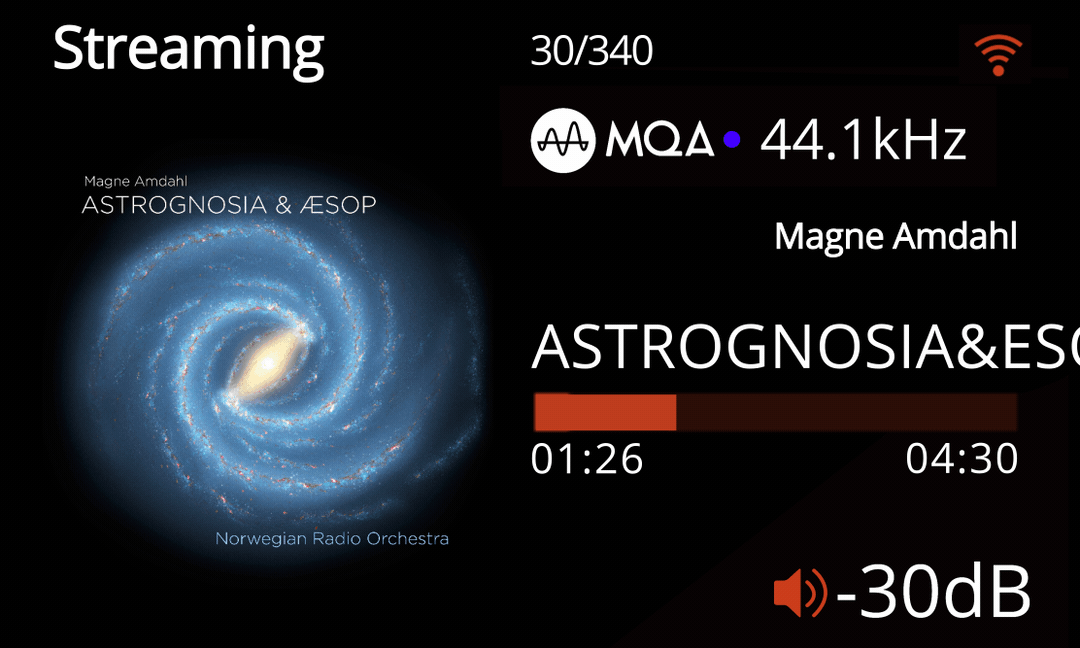 Most impressively, the 9000N display presents details of format data, playback information and, as mentioned above, full-colour album artwork display. Album artwork is visible in the default playback screen but can also be expanded for an artwork-emphasised playback screen. The display can even be set to display a VU meter in 'analogue' or 'digital' form, showing real-time decibel levels for the left and right channels – a satisfying graphical representation of the music as it plays. For a more minimalistic option, the display can be dimmed or turned off completely, as the user prefers.

Stream like a dream with Lumin
Proudly developed in conjunction with the established digital streaming expertise of Lumin – the 9000N combines the incredibly capable and equally stable Lumin streaming platform with audiolab's digital know-how, world-beating DAC implementation and signal flow, and the intuitive 9000 series general user interface, for the ultimate streaming solution.
The familiar Lumin app is evolved with a customised audiolab skin, and it offers immediate access to Qobuz and Tidal, with full access to hi-res and MQA content, as well as Spotify, TuneIn internet radio and UPnP music server systems and digital audio files stored on USB HDD devices.
The app offers intelligent search functionality and full access to, control of and even the creation of user-defined playlists, folders and album grouping functions. File information, track detail and app-in-app search, select, and compilation functions are easily accessible. Qobuz and Tidal users will be pleased to know that, unlike some other apps and platforms, the hi-res and Master Quality Authenticated (MQA) tracks can be easily identified with icons within the app itself, with no need to hop between the service and device apps to find such content.
The 9000N presents itself as the first Lumin-based device that offers wireless playback, not solely dependent on the albeit sometimes preferable wired /ethernet connection. This, along with the full album artwork and ESS9038Pro DAC chipset integration, represents several firsts for the 9000N to boast.
Yet, it is also not limited to the Lumin / audiolab app; the 9000N also offers playback via Airplay II as well as Tidal Connect and Spotify Connect for those who prefer the proprietary streaming service app.
Roon Ready
And to add to the impressive list of digital audio platform compatibility, the 9000N is Roon Ready. Roon Ready devices are network players with Roon's own streaming technology built right in, connected over your ethernet or WiFi network. These devices make bit-perfect high-resolution audio simple because they require no configuration, they give you access to the best audio quality and they provide stable, reliable playback.
Digital circuitry
The hardware is based upon a Quad Arm® Cortex®-A53 core MCU with 1.8 GHz per Core. This powerful 'brain' behind the system ensures seamless, rock-steady operation and additional benefits such as album artwork caching; for faster loading of the accompanying artwork files, thus enhancing the user experience and visual aesthetic.
Ever since the much-admired M-DAC launched more than a decade ago, Audiolab has been famed for the performance of its DAC circuitry. The 9000N incorporates the ES9038PRO – an eight-channel DAC chip representing the pinnacle of ESS Technology's current Sabre range. This is accompanied by proprietary circuitry to make the most of the chip's HyperStream II architecture and Time Domain Jitter Eliminator technology for unprecedented dynamic range and ultra-low distortion.
No company knows more about making the most of Sabre DAC technology than Audiolab, having worked with it for years through several product generations. Although consistently technically excellent, these DAC chips are also challenging to implement to maximum effect and must be integrated into a product's circuit design with care to extract their full sonic potential. The post-DAC active filter is a critical element, and Audiolab has developed a new circuit that is perfectly tailored to make the most of the ES9038PRO.
The 9000N also delivers full decoding of MQA, the hi-res streaming technology. This means that the complete 'three unfold' decoding process is performed internally, as opposed to just the final unfold in the manner of an MQA 'renderer', making the 9000A an excellent amplifier for subscribers to Tidal's 'HiFi Plus' tier where Tidal Masters (MQA) content can be found. It is officially Roon Tested, too, ensuring it works seamlessly in a Roon audio environment.
Versatile connectivity
As any audiolab fan would expect, the Audiolab 9000N incorporates state-of-the-art digital-to-analogue signal conversion. The 9000N offers connectivity via analogue XLR or RCA outputs. As a standalone MQA full decoder, it can be used with any amplifier or secondary pre-amp system that offers analogue connections. Further magic is employed through the digital output and option 'MQA Pass through functionality'. For users who may employ an equally powerful DAC (9000A owners, for instance), the 9000N can stream and throughput an untouched MQA signal (from Tidal or Qobuz, for example) which that secondary DAC can then decode. This offers further functionality and versatility, not to mention a totally unadulterated signal flow – a benefit for the purists.
The 9000N upsamples digital audio signals to 352.8kHz or 383kHz, when MQA decoding takes place – ie. When using the 9000N's analogue output. Otherwise, via menu settings the MQA signal can be assigned to 'passthrough' for decoding by a partnered DAC stage.
High-end audio that shoots for the stars but doesn't cost the Earth
The 9000 series enters the streaming realms with a view of bringing the epitome of affordable high-end audio – build quality to be proud of, versatile functionality without a hint of compromise, and a performance that delivers every detail of the music and brings it to life in captivating style. It provides remarkable sonic consistency across all manner of digital and analogue sources, always musically engaging yet also refined.