Designed from the ground up to offer state-of-the-art tonal accuracy and musical detail. The Wharfedale REVA line of Speakers have been born out of a combination of extensive research into unique driver and cabinet technology, combined with a passion for music.
The Wharfedale REVA Speakers new port design, which now sits at the base of the cabinet and claims to be more efficient. Deep, articulate bass should be the pay-off, even when positioned close to a wall.
Wharfedale designs and manufactures its own drivers and cabinets in the same factory, and has tweaked its drivers to suit the new Reva cabinets. There's a new 'glass-fibre weave' for the bass and midrange drivers, while the 25mm tweeter sports a new fine-weave textile dome. Last but not least, the curved, one-piece cabinets are hand-finished with multiple layers of piano lacquer and matt-finished aluminium driver surrounds.
From Wharfedales proprietary glass fibre weave bass and mid range drivers to the 7 layer piano gloss lacquer finish, the new Wharfedale REVA line of speakers are stunning inside and out and will bring excitement to your music collection and home cinema experience.
The drivers are combined acoustically via 4th order Linkwitz-Riley precision crossover networks, developed through advanced computer modeling and hundreds of hours of listening tests – another critical aspect in ensuring that Reva speakers meet the requirements of discerning music lovers the world over.
WHARFEDALE REVA SPEAKER DRIVERS
The Wharfedale Reva Series' 25mm treble unit sports a new, fine-weave textile dome, critically damped via a special coating and powered by a neodymium magnet fitted with a finned heat sink to reduce dynamic compression.
This tweeter delivers a response from 2kHz to above 20kHz, and is mounted on a dished waveguide to enhance dispersion.
Wharfedale's acoustic engineers worked closely with the company's in-house industrial design team, based in Huntingdon and led by David McNeil, to deliver an ideal balance between form and function.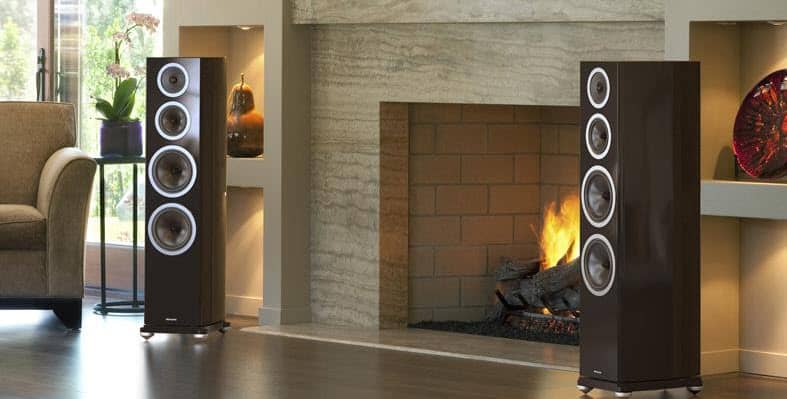 WHARFEDALE REVA DESIGN
Wharfedale speakers benefit from being designed, engineered and manufactured in a completely vertically integrated process. This enables the drivers to be developed in tandem with the cabinets – the various parts are designed and manufactured in Wharfedale's factory rather than being bought in 'off-the-shelf' as competitors are forced to do. This ensures that everything works together seamlessly, without compromise.
Another technology developed from the Diamond 200 Series is Wharfedale's signature Slot-Loaded Distributed Port. Instead of a conventional circular reflex port, all the new models incorporate a port that exits at the base of the speaker cabinet, loaded by a slot that is created by the plinth.
Apparently this equalises the air pressure to mimic that inside the cabinet, allowing smooth transition between the pressure variation in the cabinet and the low frequency sound developed in the room.
The promised result is that the speakers deliver deep, articulate and well-integrated bass that maintains the accuracy necessary for transient impact and articulation, even when positioned close to a wall.
The Wharfedale Reva Speakers are now available in India at a special offer price through HiFiMART.com