The new Audiolab M-DAC+ is a high-performance, multi-purpose audio DAC (Digital-to-Analogue Converter) for home use, designed to sit on a desk or table, or integrate into a hi-fi system. It incorporates a highly specified, audiophile-quality digital preamplifier and Class A output stage for connection to a power amp and speakers (the output can be fixed for those who wish to use an existing preamp or integrated amp), in addition to a high-quality output for headphone use.
The new Audiolab M-DAC+ is based firmly on the classic M-DAC, with carefully targeted improvements in key areas – a logical move, given the original model's sustained popularity over the last four years. The M-DAC built a peerless reputation with press and public alike since its launch in the autumn of 2011, scooping multiple Product of the Year Awards from the likes of What Hi-Fi?, Hi-Fi Choice and EISA to make it arguably the most critically acclaimed DAC component ever made.
THE FINEST DAC CIRCUITRY AVAILABLE IN THE AUDIOLAB M-DAC+
Like the M-DAC, the M-DAC+ incorporates the ES9018 Sabre Reference 32-bit DAC chipset, still widely regarded as the finest available. This is surrounded by exceptionally well-specified circuitry that puts other similarly priced DACs to shame, including a proprietary, discrete master clock to minimise jitter, coupled with extensive time domain isolation. A JFET Class A output stage ensures that the audio signal, following conversion from the digital domain to analog, is of the highest quality.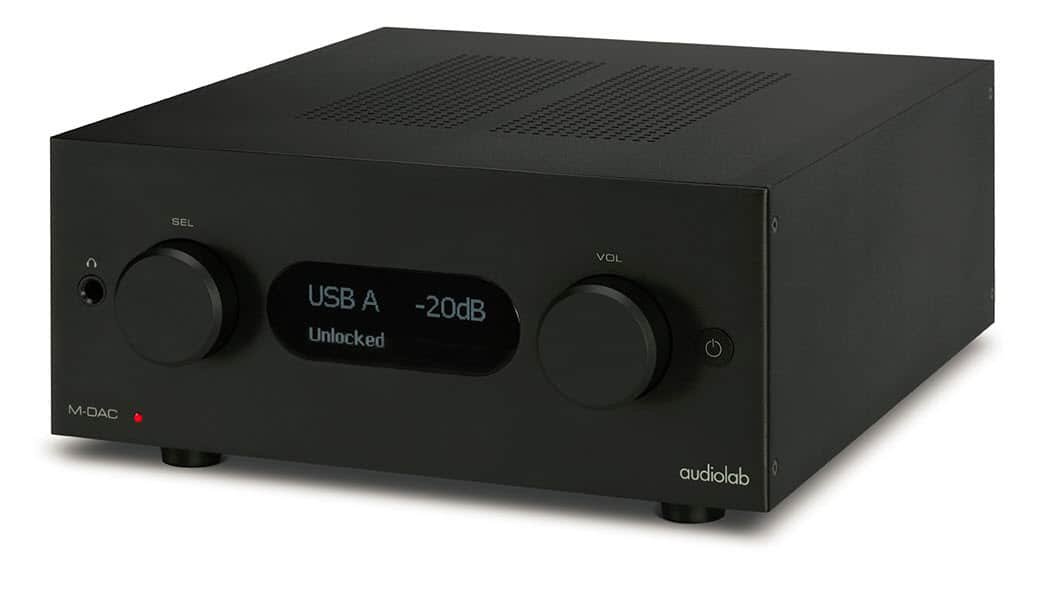 ENHANCED SONIC PERFORMANCE WITH THE AUDIOLAB M-DAC+
Another important change relates to the power supply, which has been upgraded and is now incorporated within the M-DAC+'s chassis (hence its slightly taller and deeper case compared to the classic M-DAC). A precision-wound toroidal transformer uses multiple windings to feed separate analogue and digital rectification stages. From there, multiple power supply sections feed the necessary voltages to each area of the DAC, keeping any crossover interference to a minimum. The result is the highest performance power supply Audiolab engineers have yet specified for a DAC, and its contribution to the M-DAC+'s enhanced sonic performance is significant.
SPECIFICATIONS OF THE AUDIOLAB M-DAC+
General description Digital-to-Analogue Converter
DAC ESS Sabre32 9018 chip
Sampling Rate 32-bit / 192kHz (Optical, Coaxial, AES), 32-bit / 384kHz (USB), 2.8MHz (DSD64), 5.6MHz (DSD128), 11.2MHz (DSD256)
Digital Input 2 x Coaxial, 2 x Toslink Optical, 1 x AES/EBU, 1 x USB for PC USB, 1x USB for iPod/iPhone/iPad
Digital Output 1x Coaxial, 1 x Toslink Optical
Output Voltage Balanced: 4.5V RMS
Unbalanced: 2.25V RMS
Output Impedance Balanced: 20Ω , Unbalanced: 10Ω
THD (1kHz 0dB 20Hz – 20kHz A wtd) <0.002%
Frequency Response 20Hz – 20KHz (± 0.2dB)
Signal to Noise Ratio RCA: > -115dB, XLR: > -120dB
Dynamic Range RCA: > 115dB, XLR: > 120dB
Crosstalk RCA: > 120dB, XLR: > 130dB
Dimensions (mm) 114mm x 247mm x 292mm
Net Weight 3.7kg